---
Shirley
Shirley is an Imlay City graduate, and has been a Licensed Massage Therapist from Baker College since 2013. Shirley offers many different massage techniques which include Swedish, trigger point therapy, instrument assisted soft tissue mobilization, cupping and hot stones. Shirley truly cares for her patients and works hard to create a safe and positive place to unwind stress, relieve tension and heal. She has one daughter who graduated from Imlay City and is her pride and joy. Shirley enjoys many aspects of the Imlay City community and can be found participating in many community events.
---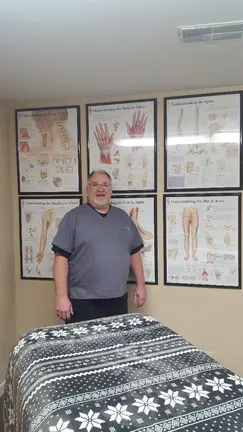 Rob
Rob graduated from massage school in August of 2017 and has embraced his new passion. Rob is very well versed in interventional massage therapy techniques and is an advanced practitioner. Rob is a former massage therapist for the Detroit Pistons Basketball Team and using his experience with the team, he has furthered his pursuit in refining his skills in clinical and sports massage therapy. Rob offers many modalities, some of which include: cupping, soft tissue mobilization, trigger point, positional release and manual muscle testing. In his past working life Rob was a metal model maker, musician, fire fighter, and a high school soccer coach.
"I'm living proof that you can teach an old dog new tricks! If you see me running around the office, I'm the guy with the big grin on his face; because I love what I do!!"